Best of the Bay Readers Poll
"Best Retro Night"



Feeling nostalgic for the heady Reagan era? Our readers must, judging by their endorsement of New Wave City. This roaming '80s dance party features music from the new wave era of the late '70s and early '80s, including theme nights dedicated to bands such as the Clash, Bauhaus, the Go-Gos, and the Cure. There is always a half-hour block of music at midnight during which only the featured band's songs are played, so the fans can truly get down. Vintage videos or slide shows complete the event. Founded by DJs Skip and Shindog in 1992, this night is still a favorite. (415) 675-LOVE.
- San Francisco Bay Guardian, July 2000
---
Best of the Bay Readers Poll
"Best Retro Night"



As the 21st century approaches, it's pointless to question whether the '80s revival is over - the real question is how many times the '80s can be revived. New Wave City has been reviving the '80s for years, and thanks to DJs Skip and Shindog, it has been doing so with an enthusiasm that puts the easy kitsch of other revivals-come-lately to shame."
- San Francisco Bay Guardian, July 28, 1999


---
Shindog was quoted in a year-end Chronicle story asking DJs about their ultimate party.

"DJ Shindog of New Wave City and Ballroom Blitz, says his ultimate New Year's show would be a benefit with the reunited Pixies.'Besides rocking our butts off, hopefully we could remind everyone to help each other and help the planet -- the perfect next-millennium message.'"
- San Francisco Chronicle, December 19, 1998


---
Best of the Bay Readers Poll
"Best Retro Night"



When you have that irrepressible urge to break out the mousse and blue eye shadow, there's not one but two "killer" places to rock your lobster. New Wave City, the roving dance party, brings "Centerfold" and "Stray Cat Strut" back to the dance floor and onto the karaoke stage. Eighties night at the Stud gives a queerer crowd a similar trip back to adolescent pop la-la land. New Wave City, (415) 675-LOVE or www.newwavecity.com. The Stud, 399 Ninth St., S.F. (415) 863-6623.
- San Francisco Bay Guardian, July 29, 1998
NOTE FROM SHINDOG: New Wave City is NOT known for playing "Centerfold" !!!


---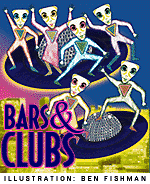 We got special feature coverage in the Bay Guardian's 1998 Bar & Club Guide.
Read the full text here.

"New Wave City is, well, new wave city; it's brimming with women in Go-Go's dresses, thick bows tied around their short, frizzy-banged hair. Lots of men with pencil-thin ties and spiky techno dos hang around too; I even spotted a few clove smokers huddled outside. And if you still don't know where you are, the TV screen in the front of the bar flashes images of '80s giants like Dexy's Midnight Runners, Boy George, Devo, and Soft Cell. And oh, the dance floor. It's difficult to describe the truly unmitigated glee the dancing mass expressed at the beginning of each eagerly anticipated song, all those yelps of exuberance at hearing, say, the first few bars of Soft Cell's 'Sex Dwarf' or Duran Duran's 'Girls on Film.'"
- San Francisco Bay Guardian, March 4, 1998


---
As if that wasn't enough, the NWC promoters got grilled for the Bar & Club guide. Read it all here.

"New Wave City is more a floating family, a nomadic tribe, than a floating club. And Skip and Shindog, its creators, DJs, and 'father figures,' are avid documenters of their past, keeping extensive photo albums of their devoted kin. Veterans of more than 10 venues, the partners started the City in '92 at the now-defunct new wave landmark the I-Beam. The years have seen many of their famous theme nights (Rock the Casbah Belly Dancers, Molly Ringwald Night) and New Wave Theatre performances, one of which featured Skip and Shindog as Robert Palmer girls, lip-synching 'Addicted to Love.' To catch them in top form, come early, when they play their 'little gems.' You won't be alone, though, because as Skip says, 'People plan their lives around New Wave City.'"
- San Francisco Bay Guardian, March 4, 1998


---
KRON'TV's "First Cut" program covered the 80s revival and sought out our own Shindog as an expert on the period.

"New Wave was an outgrowth of the punk rock movement," explains Steve Indig, co-founder of New Wave City. "There wasn't so much the hard core rebelliousness, but still people were enticed by things that looked different and...exciting."
- KRON-TV's "First Cut," January 24, 1998


---
No doubt many of you saw the SF Chronicle piece reporting on the '80s revival. Although the reporter had more of a fixation with so-called "yuppie parties," you might want to read the original article on '80s clubs , or the accompanying story on the decade in general. New Wave City was acknowledged as the leader of clubs laying claim to the decade, with both photos accompanying the article ( take a look at the photos here! ) taken at our club (actually the April 97 event), and the following copy:
"Saturday nights get a jolt once a month with New Wave City, at nearly 5 years old the longest-running '80s dance party."
- San Francisco Chronicle, July 10, 1997


---
"For those whose Carter-era sphere of reference extended beyond that of a suburban third grader, New Wave City's Class of '77 celebration should inspire more acute pangs of nostalgia. This night, the roaming dance party salutes the year punk/New Wave came of age by giving away the latest albums by that year's valedictorias Johnny Lydon and David Byrne, and spinning the best of Blondie, the Ramones, et al. New Wave City, King Street Garage, June 21st"
- BAM, June 13, 1997


---
"While the Black and White Ball sends revelers home dreaming of Fred and Ginger, New Wave City's alternative dance party the Black and Black Ball conjures visions of Budgie and Siouxsie. "Death Guild"'s Melting Girl joins DJs Shindog and Skip as co-hostess and guest DJ. People are expected to dress accordingly; go ahead and relive those memories of the 'rents wringing their hands and pleading "Why can't you wear something cheery?" The Black and Black Ball is at the King Street Garage."
- SF Weekly "Night & Day", May 7, 1997


---
"Maybe you're looking for a more traditional way to say howdy-do to 1997, but nothing can quite compare to those youthful parties of yesteryear. Have no fear, the staff of New Wave City knows your pain - and your age. You are invited to relive New Year's Eve circa 1979 with all of your favorite hits from your favorite artists (no, this is not a K-Tel commercial): the Cars, the Clash, the B-52's, Ian Dury, the Records, the Talking Heads, Nick Lowe, Elvis Costello, David Bowie, Joe Jackson, Madness, the Police, the Knack, the Buggles, Flash & the Pan, the Specials and Blondie. But wait! There's more. For absolutely no additional cost, you will get party favors, door prizes, a balloon drop, a midnight champagne toast, and a new wave karaoke room where you can get drunk and butcher all the bygone hits just for laughs. The flashback begins at 9pm on Tuesday, Dec. 31 at the CW Saloon, 911 Folsom."
- Silke Tudor (The House of Tudor), SF Weekly, December 25, 1996


---
"New Wave City, a roving, '80s-themed club, is scheduled to celebrate both Simon LeBon's birthday and Halloween on Friday at the Martini Lounge in Hollywood. Celebrants are encouraged to sport 'New Romantic' or any other '80s attire."
- Heidi Siegmund Cuda, Los Angeles Times, October 24, 1996


---
"San Francisco's floating club, New Wave City, comes to L.A. with DJs Shindog and Skip spinning music from '80s greats like Duran Duran, Adam Ant, the Smiths and more."
- LA Weekly, September 26, 1996


---
Our First L.A. press!
"Club buzz: San Francisco deejays Shindog and Skip are testing L.A. waters by bringing New Wave City, their 4-year-old roving dance club, to the Southland. New Wave City can be found at the Garage in Silver Lake on Sept. 20 and the Martini Lounge in Hollywood on Sept. 28. Expect plenty of Duran Duran, Adam Ant and Go-Go's. New Wave City, (213)694-1866 or (415)675-LOVE."
- Heidi Siegmund Cuda, Los Angeles Times, September 12, 1996


---
San Francisco Bay Guardian "Best of the Bay"
"Best Club for New Wave Oldies"

Some might say nostalgia for the '80s is a trend; others might say it's a disease caused by fin de siecle fear of the future. Whatever the case, New Wave City tapped into '80s nostalgia long before the trend (or disease) reached epic proportions. The monthly (sometimes semimonthly) traveling party, hosted by deejays Shindog and Skip, brings ska boys with skinny ties and Goth girls with jet-black hair together under one roof to perform herky-jerky dance moves to the beats of the Reagan era. New Wave City's next party features a live performance by Berlin, the Los Angeles talents responsible for the aural soft-porn hit "Sex (I'm a ...)." Be there or be square. Various locations, S.F. (415) 675-LOVE."
-San Francisco Bay Guardian "Best of the Bay" Issue , July 31, 1996


---
"New Wave City is the leading 80's-retro, alternative-dance music event in the city. It's heads and shoulders above the rest of the clubs trying to pull off this format, and they've been doing it for a number of years. Each affair pays tribute to a late 70's/early 80's, alternative recording artist or a genre of music. DJ's Skip and Shindog spin tunes ranging from rock-a-billy to gothic. They're all over the board."
- Oblivion Magazine, April/May, 1996


---
"This '80s club only comes around one Saturday a month, and the leathered-up crowd looks like it just came from the famed punk club CBGB in New York. By 11:30 p.m., there is a line down the block. The dance floor gets packed and one recent midnight, the Cure one of the great downer bands of the '80s, was played for a half-hour straight. [Another recent New Romantic theme included] featured bands Duran Duran, Adam & the Ants, Visage and Ultravox. Theme requests are welcomed."
- San Francisco Chronicle , March 3, 1996


---
"It's Saturday night at Cat's Grill and Alley Club and New Wave City is in full gear. Krista's mohawked partner, Amy, attests that they haven't missed a single night of the monthly floating dance club since they discovered its existence... most of New Wave City's patrons are repeat customers.... Full of pogoing men in pointy, shiny shoes and women in miniskirts imitating Molly Ringwald's Breakfast Club dance, [New Wave City] is a sight to behold. 'The '80s were really geared towards fun," says a bespectacled man in New Romantic gear. "The clothes are flashy, the makeup is flashy, but people are out to have fun - not just to pose..."
- Silke Tudor /Night Crawler, SF Weekly, December 13, 1995
** This is a great piece! Try to get it and read the whole thing if you can.


---
"One recent Friday night, I found myself in a packed nightclub called New Wave City. While Flock of Seagulls' 'Space Age Love Song' played, the crowd performed the universally recognized dance of the eighties, sweeping their legs in graceful circles and moving their wrists around as if wearing handcuffs... Once a month, hundreds of twentysomethings gather to dance to songs that are almost 15 years old: Joy Division's 'Love Will Tear Us Apart,' Depeche Mode's 'Everything Counts,'..."
Rafer Guzman, Pacific Sun, October 18, 1995
** Another superb article! Check it out if at humanly possible.


---
"Who in this day and age would dare offer a special salute to The Smiths to a crowd of San Franciscans? Nobody but New Wave City - the only folks under the sun who, when faced with the recent Duran Duran and Adam Ant revivals, held firm their belief that the early '80s never went out of style. The parties are fun, and the music is great if you love it and quaint if you don't. This time around it's the club's third birthday..."
- Bay Guardian , August 30, 1995


---
"...Right now, musical salutes to the '80s are commonplace on TV (VH-1) and CDs (via Rhino), but New Wave City revived the era long before it was trendy to do so. The traveling new wave/new romantic club is celebrating its third anniversary, and it's an 'Unhappy Birthday,' devoted to the peerless poetic miserabalism of the '80s greatest boy band, the Smiths..."
- SF Weekly , August 30, 1995


---
"New Wave for a Cause ...proceed to visit New Wave City's Pride of the '80s Dance Party, where you can invent herky-jerky dance moves while helping a worthy cause. All proceeds will go to Project Open Hand..."
- SF Weekly , June 7, 1995


---
"New Wave City and 80Something - the two Bay Area production groups that present regular new-wave dance parties in San Francisco - are teaming up for "Pride of the '80s," a benefit for Project Open Hand. It features DJs Dangerous Dan, Paul Cruikshank, Shindog and Skip, as well as lip-synch performances by Deena Davenport's New Wave Video 2000, a buffet and prizes for best '80s garb."
- San Francisco Chronicle , June 11, 1995


---
"At no time since Dec. 31, 1989, has it been easier to step into the '80s... DJ Skip and his partner DJ Shindog are the wax spinners and promoters of New Wave City, a club that is currently spilling through the city and carrying folks back to the early '80s."
- Bars & Clubs: A Bay Guardian supplement, April 1995


---
"On a recent rainy Saturday night South of Market, a group of revelers collected at New Wave City, a monthly 'roaming '80s dance party,' to pay tribute [to the Go-Go's.] Marian Ringwald, 26, remembered that at age 14, "I liked them because I thought Gina Schock was one of the best drummers in rock.'"
- SF Weekly , November 12, 1994


---
"The latest edition of the New Wave City dance party happens Saturday at the I Beam. I will include a prize giveaway of Rhino's new five-CD compilation 'Just Can't Get Enough: New Wave Hits of the '80s.' And rumors abound that the I Beam will be closing its doors for the last time at the end of the month."
- San Francisco Chronicle , July 17, 1994
** NOTE : The I Beam did close, which made that New Wave City event its last night EVER!.


---
"Forget all of this 'New Wave of New Wave' nonsense the Brits keep flogging away at. Here in San Francisco, it's easy to be transported back in time and feel all the power and energy of the real thing: Yep, that intrepid traveling club of late-'70s/early-'80s fun, New Wave City, is back, complete with the stunning mirror-balled ambiance of yesteryear. DJs Shindog, Skip and Brian Raffi will be plundering their vinyl collection - this music was hot way back in the days before cute little shiny discs, remember? - to bring us New Wave's eternal classics. So don your skinny ties (or, depending on our personal leanings, that white stripe across your nose), and prepare to thrill to the sounds of 'Antmusic,' 'Tainted Love,' 'Poison Arrow' and 'Eton Rifles.' Go back to a land far away, where music was real and you possessed enough stamina to stay up until 3:30 am and still get to your day job on time the next morning."
- SF Weekly , June 29, 1994


---
POP CHARTS: Each week, The Chronicle will look at various charts, including music videos, hits from around the world and personal favorites from local personalities.

LOCAL FAVORITES
DJs Skip, Shindog and Brian of New Wave City;
| | | |
| --- | --- | --- |
| 1. | New Order | 'Temptation' |
| 2. | Madness | 'One Step Beyond' |
| 3. | Dexy's Midnight Runners | 'Come On Eileen' |
| 4. | Men Without Hats | 'The Safety Dance' |
| 5. | Big Country | 'Big Country' |
| 6. | Stray Cats | 'Stray Cat Strut' |
| 7. | Pigbag | 'Papa's Got A Brand New Pigbag' |
| 8. | Duran Duran | 'Girls On Film' |
| 9. | Sex Pistols | 'Anarchy in the UK' |
| 10. | Adam & The Ants | 'Antmusic' |
- San Francisco Chronicle , May 22, 1994
---
"...Punk revival nights are popping up at nightclubs throughout the country, including San Francisco, where nightlife entrepreneurs Steve Indig and Grant 'Skip' Medeiros have drawn big crowds with their infrequent 'New Wave City' nights at various clubs..."
- Oakland Tribune, May 30, 1993


---
"...It [the '70s movement] is being displaced in the demimonde by an '80s revival, which is occurring in the form of events such as the 'New Wave City' dance parties.."
- San Francisco Chronicle , March 22, 1993


---
"...last week I attended my first New Wave party at [New Wave City] which must mean that time has - surprise!- marched on... at the party, there we all were, dancing merrily away to songs by Duran Duran, the Go Go's and Scritti Politti.."
- Gina Arnold, Express, February 5, 1993


---
"...Regardless of how you want to discard it ('We've got the beat'), recall it ('Bela Lugosi's dead'), or invoke it ('I might like you better/if we slept together'), [New Wave] is back with a vengeance at New Wave City..."
- SF Weekly , January 20, 1993


---
"...Are you ready for '80s nostalgia? Try New Wave City, featuring music by all the great ones - you know, Adam and the Ants, Nina Hagen, the Go Go's, Romeo Void, and the rest.."
- San Francisco Bay Guardian, January 20, 1993


---
"...If you already miss the '80s and crave an opportunity to undulate to those 'modern rock classics' of yore, check out..'New Wave City' dance parties..."
- San Francisco Chronicle , January 17, 1993


---
"...The dance crazies of the '70s and early '80s can revive their sweaty habits at New Wave City..."
- San Francisco Chronicle , January 14, 1993


---
"...The faded glory of the old I-Beam nightclub on Haight Street gets a flash of '80s nostalgia..bringing back DJ's and the 'new wave' music that made the club one of the high energy nightspots of those long-ago times..."
- San Francisco Chronicle , August 20, 1992