Past Events – 1999

Battle of the Birthday DJ's, Shindog vs. Skip play Bow Wow Wow vs. Blondie, King Street Garage, January 16, 1999
New Romantic Night, King Street Garage, February 6, 1999
Valentine's Party, CW Saloon, February 14, 1999
March Madness/Ska Salute, King Street Garage, March 6, 1999
Cure Salute, 550 Barneveld, March 26, 1999
One-Hit Wonder Salute, King Street Garage, April 3, 1999
New Wave Prom Night, 550 Barneveld, April 23, 1999
Salute to New Order, Club Townsend, May 14, 1999
Memorial Weekend New Wave BBQ, CW Saloon, May 30, 99
The Black & Black Ball, King Street Garage, June 5, 1999
UK New Wave Invasion, King Street Garage, July 3, 1999
Salute to Psychedelic Furs, King Street Garage, August 7, 1999
Duran Duran Tribute Night, 550 Barneveld, August 13, 1999
Labor Day Weekend New Wave BBQ & Dance party, CW Saloon, September 5, 1999
Seven Year Anniversary Party, King Street Garage, September 18, 1999
Salute to Echo & the Bunnymen, King Street Garage, October 2, 1999
NWC Live Band & Dance Party, CW Saloon, October 9, 1999
Echo & the Bunnymen concert, Maritime Hall, October 22, 1999
Halloween Vintage Goth Gala, 550 Barneveld, October 30, 1999
Girls Just Wanna Have Fun, King Street Garage, November 6, 1999
Salute to The Smiths, King Street Garage, December 4, 1999
New Wave CitY2K - New Year's Eve Party, CW Saloon, December 31, 1999

---
Battle of the Birthday DJ's, King Street Garage, January 16, 1999
Shindog vs. Skip play Bow Wow Wow vs. Blondie
In honor of their birthdays, New Wave City producers and DJ's Skip and Shindog chose some of their favorite music for this face-off theme. Representing Shindog was Amabella and those Bow Wow Wow boys. In the opposite corner, for Skip was Debbie Harry and Blondie. After the midnight battle, an informal poll showed Debbie knocking out Annabella - another case of age before beauty!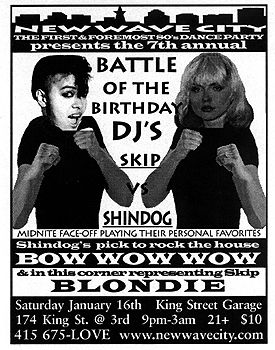 ---
New Romantic Night, King Street Garage, February 6, 1999
As a warmup for Valentine's Day, New Wave City paid tribute to the New Romantic era, playing extra doses of bands like Duran Duran, ABC, Visage, Adam Ant, Soft Cell, Haircut 100 and Spandau Ballet. Clubgoers in ruffle shirts, pirate pants and eyeliner entered the club through our luxurious red Tunnel of Love into a passion fantasy of hearts and cupids for a completely romantic evening.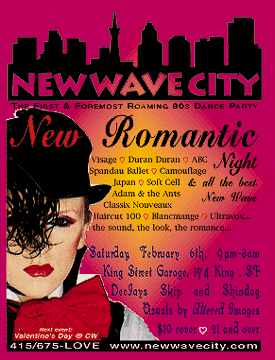 ---
Valentine's Party, CW Saloon, February 14, 1999
The sweethearts came out in force as V-Day also fell on the three day President's Day holiday, and NWC reigned again at the CW.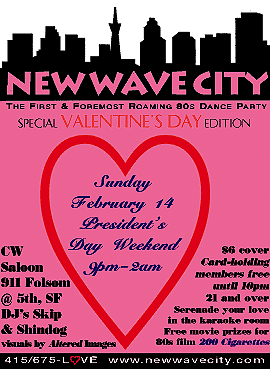 ---
March Madness/Ska Salute, King Street Garage, March 6, 1999
For our salute to the 2nd wave of ska, we decked the King Street Garage in checkers and 6 foot tall rude boys, invited Scoot Magazine over for a scooter show and vending table, and of course, played lots of Madness, English Beat, Specials, Selector, Bad Manners and others from the 80s 2Tone era. We gave away prizes from the new Madness live CD, original 2Tone releases, and Scoot CD's, shirts and mags. Thanks to all the great skankers who kept the dance floor pumping all night!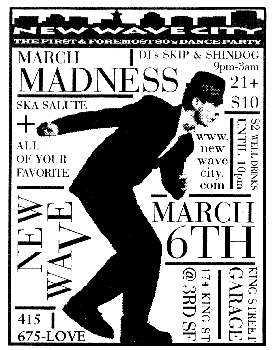 ---
Cure Salute, 550 Barneveld, March 26, 1999
Keeping true to our roaming reputation, we hit our sixteenth venue in New Wave City's history with our debut at 550 Barneveld, putting on one of our most popular themes with a salute to the Cure. Everyone loved the event in this cool multi-room venue - a choice of two dance rooms, with Shindog & Skip in the main room, and guest DJ's John & Tim in the second room, where they played a solid hour of Cure at midnight. To satisfy Cure fans even more, the upstairs VIP lounge played Cure videos on big-screen all night.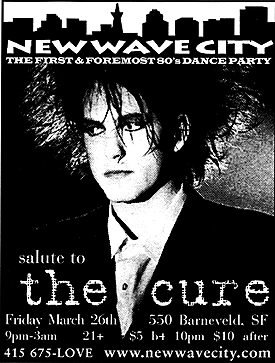 ---
One-Hit Wonder Salute, King Street Garage, April 3, 1999
It was a night of guilty pleasures and cool songs many hadn't heard in years, as we paid tribute to the acts and songs that hit the New Wave scene just once, leaving their musical mark for us to remember and dance to. At midnight, while Nena sang of her "99 Luftballoons," we released 99 red balloons each good for a free 80s CD collection from ZTT.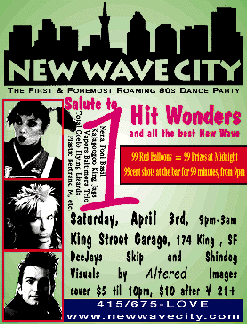 ---
New Wave Prom Night, 550 Barneveld, April 23, 1999
Many had a soft spot for Prom, as this turned out to be one of our most-talked about events. The vast majority of those in attendance were dressed in their prom finest, with lots of nods to the eighties, and plenty of Andie and Ducky -wannabes. The Prom Committee made the already glorious confines of 550 Barneveld into a dream. All those dressed up just had to get their picture taken at the prom photo booth, whose proceeds were donated to the Bay Guardian Community Fund. And there were lots of chuckles at the Vintage Prom Gallery display of photos from proms past. The Prom King & Queen were selected by audience response for their great outfits. While taking a break from dancing in the main room, promsters hugged and smooched in the Slow Dance / Romance Room, watched the original Pretty In Pink movie in the Video Lounge, or hung out in the bar snacking on Prom Treats. It was truly a night to remember!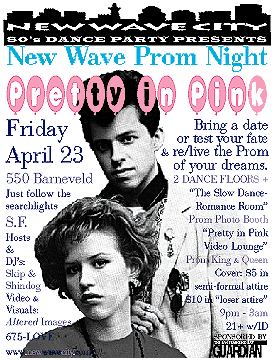 ---
Salute to New Order, Club Townsend, May 14, 1999
The large expansive dance floor at Townsend filled with New Order fans for this event.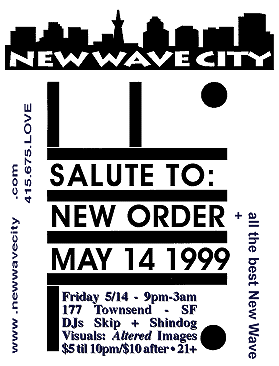 ---
Memorial Weekend New Wave BBQ, CW Saloon, May 30, 99
We started our traditional New Wave BBQ with a showing of one of Skip's favorite New Wave movies: Starstruck.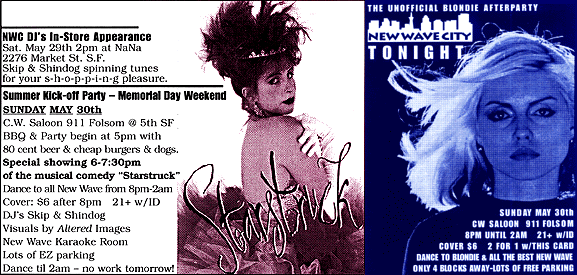 ---
The Black & Black Ball, King Street Garage, June 5, 1999
Our counter-programmed event to the Black & White Ball was grander than ever, featuring a fashion show by NaNa and Lip Service and Mistress of Ceremonies Debora Iyall (Romeo Void, Knife In Water) who signed autographs and sang a couple numbers.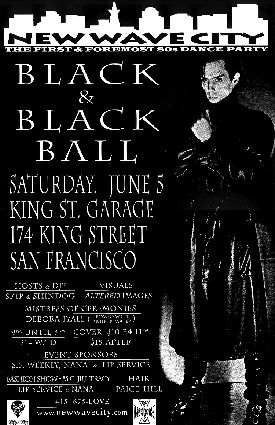 ---
UK New Wave Invasion, King Street Garage, July 3, 1999
In honor of the all-American Fourth of July weekend, we played all music from the United Kingdom all night.



---
Salute to Psychedelic Furs, King Street Garage, August 7, 1999
There were lots of Furs going on this night - extra doses of Richard Butler and band (Love My Way, Pretty In Pink, etc.), Go Go dancers wearing furry clothes from NaNa, and customers in fake fur or animal print outfits who won movie passes and prizes for the new movie "Detroit Rock City."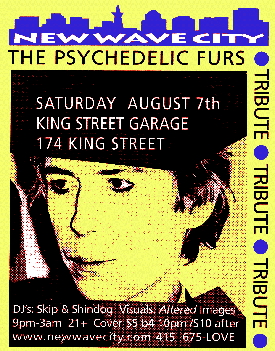 ---
Duran Duran Tribute Night, 550 Barneveld, August 13, 1999
We filled the spacious confines of the club 550 Barneveld with 4 rooms of Duran and more! In the main room, the GIRLS ON FILM DANCERS kept the crowd moving. In the second dance room, customers helped save PLANET EARTH with donations to San Francisco BayKeeper in a raffle for Duran Duran concert tickets. Helping out in the benefit room were guest DJ's Melting Girl (Death Guild, 1984, So What!), Andy Trice (80s au Go Go, Stud), Tim (Blarney Stone), John (NWC die-hard and semi-regular guest DJ), and Victor Sam (Honolulu's Artschool). Upstairs BARBARELLA and Duran videos showed on large screen through the night, and in the bar, rather than be LONELY IN YOUR NIGHTMARE, single folks could search for a date with SF Weekly's Romance/personal ad consultants.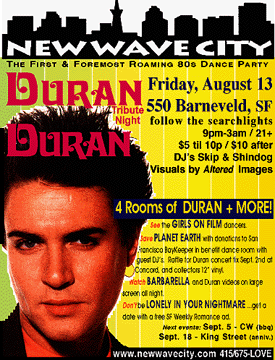 ---
Labor Day Weekend New Wave BBQ & Dance party, CW Saloon, September 5, 1999
Our traditional 3-day weekend BBQ bash was highlighted by guest DJ'ing from John, Skip's 80s "pub" quiz, and New Wave Karaoke til the cows went home.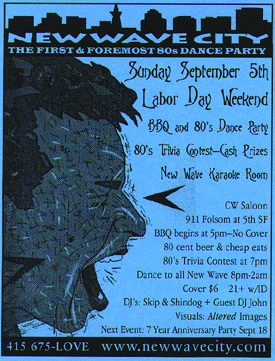 ---
Seven Year Anniversary Party, King Street Garage, September 18, 1999
It was a great night to mark our seventh year of celebrating the New Wave era. Our members joined us for a pre-party celebrating, sipping champagne, and enjoying great eats prepared by Ryann and desserts by Dragon. Skip & Shindog highlighted each hour with special personal sets and tributes. The midnight hour featured a New Wave Fashion contest (a pair of trendy "valley girls" won), and a New Wave Dance contest, with lucky winners getting a set of CDs from Cleopatra.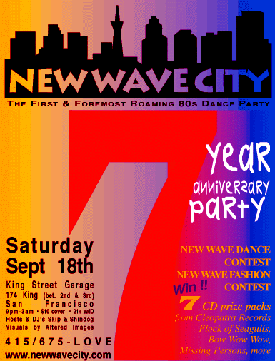 ---
Salute to Echo & the Bunnymen, King Street Garage, October 2, 1999
It was the first time we held a tribute night to this influential New Wave act, held in honor of their concert a few weeks later. We gave away bunches of tix to this show, co-presented by NWC (see below.)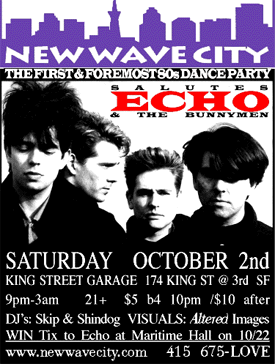 ---
NWC Live Band & Dance Party, CW Saloon, October 9, 1999
This event was booked largely to give a boost to the ailing CW, which hopefully helped, since the club will remain open. We presented a couple cool bands: Notorious - a Duran Duran tribute band, and Moonlife - 80s-influenced synth-pop.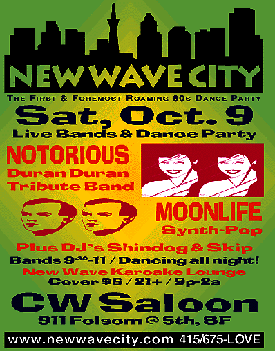 ---
Echo & the Bunnymen concert, Maritime Hall, October 22, 1999
New Wave City proudly co-presented this great show with Ian McCulloch and band, who played two hours plus of a great song selection showcasing their stellar career. DJs Shindog & Skip played while the bands weren't playing. Opening act was Other Star People, featuring Jennifer Finch from L7.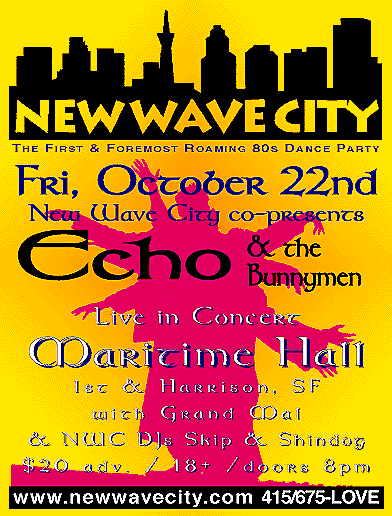 ---
Halloween Vintage Goth Gala, 550 Barneveld, October 30, 1999
This landmark event for NWC was co-Presented by by the City's leading goth parties: Catacombs and Death Guild, who helped transform the club into a spooky, macabre environment. In honor of Halloween, we paid tribute to New Wave's dark side with a salute to Vintage Goth. DJs from all three parties featured goth music on both dance floors. Hundreds and hundreds of SF's best underground club fans showed up with knockout costumes. Top two costumes in our contest were an impeccable Beetlejuice, and an outstanding couple (way to go, Kerrigan and Tim) as Jack Skellington and Sally from "Nightmare Before Christmas" (Tim deserved a special award for wearing a real hollowed-out pumpkin over his head through the night for realism.)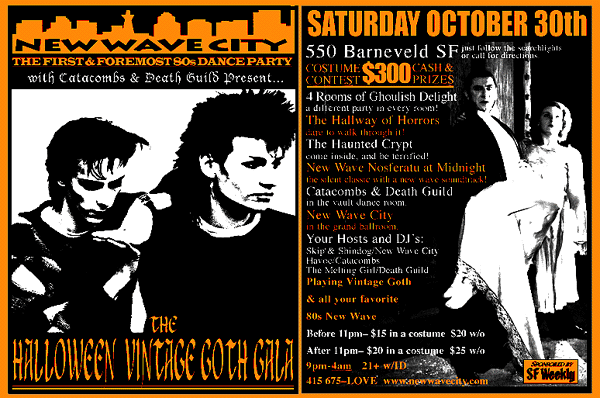 ---
Girls Just Wanna Have Fun, King Street Garage, November 6, 1999
This salute to female New Wave performers also included a record release party with giveaways for the Eurythmics release "Peace."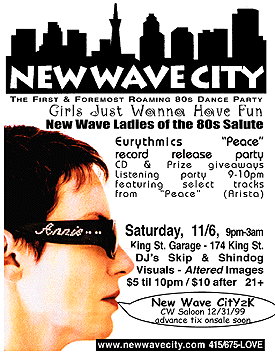 ---
Salute to The Smiths, King Street Garage, December 4, 1999
We revisited one of the most popular New Wave City themes: our annual salute to The Smiths, with extra doses of Smiths and Morrissey music. In the spirit of the season, we also participated in the Great Goth Toy Drive, brightening spirits for those much too young to remember the New Wave era.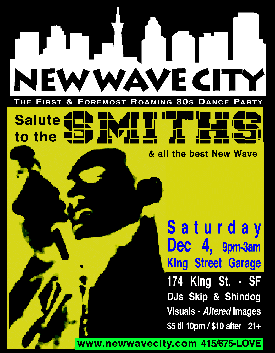 ---
New Wave CitY2K - New Year's Eve Party, CW Saloon, December 31, 1999
It wasn't really quite "the end of the world as we know it," but we sure felt fine! Our end-of-the-millennium event held a select group of 300 at the CW. We opened a small second dance floor in the back, where guest DJ's John and Tim spun, while Shindog and Skip kept the front room rockin' with great New Wave. At midnight the balloons came down, champagne was sipped, lips were kissed, and we plunged into New Year's Day 2000.