Past Events – 1998

Battle of the Birthday DJ's, Shindog vs. Skip play Ska vs. Soft Cell, King Street Garage, January 17, 1998
New Romantic Night, King Street Garage, February 7, 1998
Images of 80's Night, CW Saloon, February 20, 1998
B-52's Night, King Street Garage, March 7, 1998
For the Kids In America, Big Heart City, March 21, 1998
Siouxsie & the Banshees Salute, King Street Garage, April 4, 1998
Benefit for Home Away from Homelessness, Club Townsend, April 17, 1998
Go-Go's Salute, Club Townsend, May 8, 1998
Devolved Summer Kick-Off Party, CW Saloon, May 24, 1998
Pretenders Salute, King Street Garage, June 6, 1998
Talking Heads Salute, Big Heart City, June 20, 1998
Fourth of July British New Wave Invasion, King Street Garage, July 4, 1998
Salute to Human League and synth, King Street Garage, August 1, 1998
Labor Day Weekend Bash, CW Saloon, September 6, 1998
Six Year Anniversary Party, King Street Garage, September 19, 1998
Salute to Depeche Mode, King Street Garage, October 3, 1998
Salute to the Smiths, King Street Garage, November 7, 1998
Salute to U2, King Street Garage, December 5, 1998
New Wave Eve, Cat Club, December 31, 1998


---
Battle of the Birthday DJ's, King Street Garage, January 17, 1998, Shindog vs. Skip play Ska vs. Soft Cell
In honor of their birthdays, New Wave City producers and DJ's Skip and Shindog chose some of their favorite music for this face-off theme. Representing Shindog was Ska music (Madness, Specials, Selector, Bad Manners, English Beat, etc.) In the opposite corner, for Skip was Soft Cell (Tainted Love, Sex Dwarf, It's a Mugg's Game, What!, Say Hello Wave Goodbye, etc.) After the midnight battle, an informal poll showed ska merge victorious! Yeah, Rudy!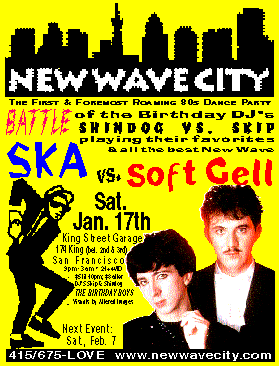 ---
New Romantic Night, King Street Garage, February 7, 1998
Just in time for Valentine's Day, New Wave City paid tribute to the New Romantic era, playing special doses of bands like Duran Duran, Visage, Adam Ant and Spandau Ballet. Lots of ruffle shirts, pirate pants and eyeliner were apparent as many got in the appropriate mood. Staying in the spirit, the evening also featured giveaways from the movie The Wedding Singer, with its all-80's soundtrack. New Wave City was an official sponsor of a special preview, and gave away passes, CD soundtracks, t-shirts, and garter belts! Club patrons were able to search for their own new romantic by submitting free personal ads to our event's co-sponsors, Guardian Personals.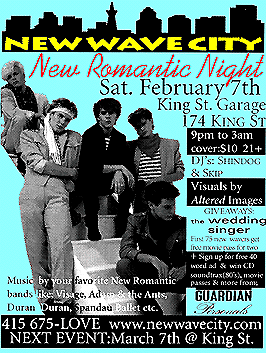 ---
Images of 80's Night, CW Saloon, February 20, 1998
We returned to our occasional, and more intimate home at the CW for this event, encouraging everyone to wear their best Images of the 80's. The best 80's outfits won the Peter Godwin CD collection Images of Heaven from Oglio, containing the hit title song, as well as "Baby's In the Mountains" and more 80's synth tunes from Peter. Top winners had very 80's accessories like spiked hair, skinny ties, Cyndi Lauper-do's, Toni Basil-do's, and at least 4 pairs of leg warmers(!?)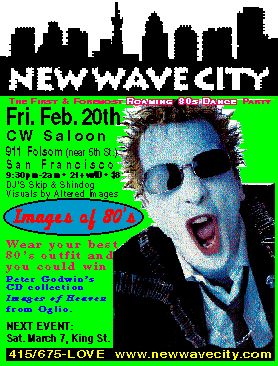 ---
B-52's Night, King Street Garage, March 7, 1998
It was about time to give our salute treatment to those 80's darlings from Athens, GA - the B-52's. We covered every song we could fit in, from Rock Lobster to Love Shack and everything in between.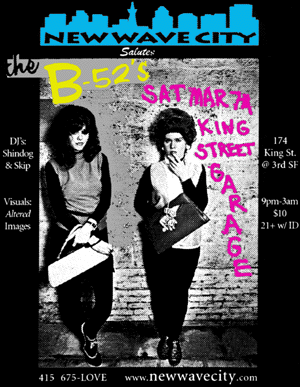 ---
For the Kids In America, Big Heart City, March 21, 1998
Responding to many requests, New Wave City hld this special event to accommodate all those aged 18 years and over. In honor of our only-slightly-more youthful customers, we named the event after the Kim Wilde hit, "Kids In America."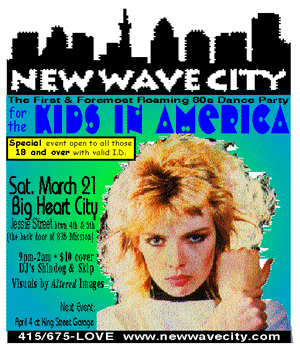 ---
Siouxsie & the Banshees Salute, King Street Garage, April 4, 1998
New Wave City tipped its hats to a legend well beyond the confines of New Wave - Siouxsie and the Banshees, playing sets of their music throughout the night. The event also featured vending by Rock and Roll San Francisco and a goth makeup station - you should have seen Skip in his purple eyeshadow!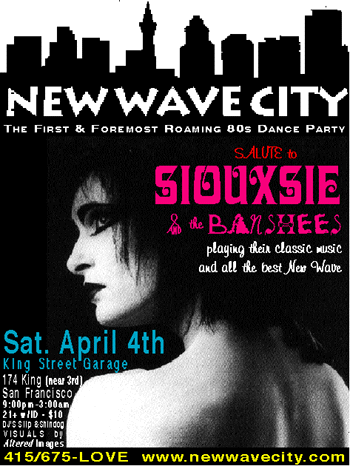 ---
Benefit for Home Away from Homelessness, Club Townsend, April 17, 1998
Special thanks to all those who helped us raise funds and attention for the local charitable organization Home Away From Homelessness. This nonprofit group provides services to homeless families, particularly children, including facilities in San Francisco and Marin County that give kids a safe environment off the streets. Their Marin Headlands Beach House is an oasis where homeless children can get away from shelters, sidewalks and stress to experience play and be with other kids. The group's daytime Drop-In Center at Fort Mason suffered an accidental fire in December 1997, so the benefit was particularly helpful to assist their rebuilding and to allow them to continue to do their good work. Once moderate expenses were covered, 100% of all proceeds from the benefit were donated to Home Away from Homelessness. Special features of the evening included a New Wave raffle, including the grand prize trip for two to see Gary Numan in concert at the Hollywood Palace, New Wave photo booth by Digital Caricatures, and hosting by the retail store Rock and Roll San Francisco.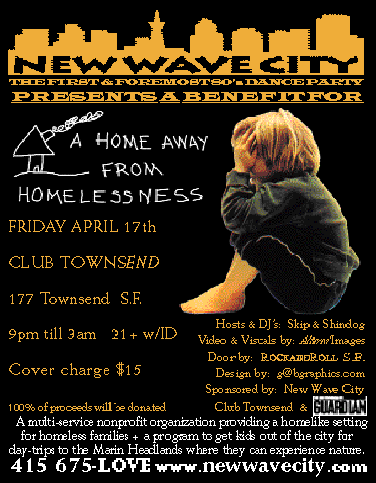 ---
Go-Go's Salute, Club Townsend, May 8, 1998
Female trailblazers the Go-Go's got our salute treatment for this event. To highlight the theme, we hired the wildest, most New Wave go-go dancers The City could possibly have, including dancers from Bondage a Go Go, Stinky's Peep Show, and our own Dan O'Brien who debuted a new costume for us. Our go-go dance prize awarded $100 cash to the very hyper Amber who outdanced everyone else - you go-go girl!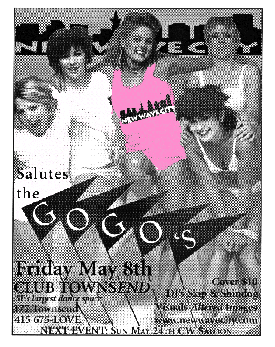 ---
Devolved Summer Kick-Off Party, CW Saloon, May 24, 1998
Twas the perfect start for summer over the three day Memorial Day weekend, starting with our patented New Wave Bar-B-Que with cheap food and drink, and guest DJ John spinning the vintage New Wave gems. As the evening began, we presented the local Devo tribute band Mongoloid, who wowed the crowd with two amazing sets of their accurate reproduction of the Devo experience with multiple costume changes, props, stage maneuvers, and classic Devo music, including guest appearances by Boojie Boy, Blockhead, and fire extringuisher stunts. Then it was on to New Wave dancing and New Wave Karaoke in the back room, creating more New Wave memories just in time for Memorial Day.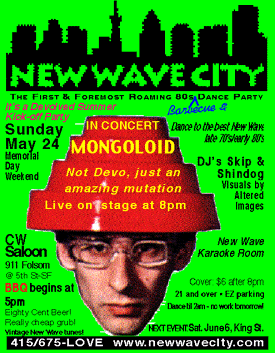 ---
Pretenders Salute, King Street Garage, June 6, 1998
This was our first salute to the Pretenders, fronted since their debut in 1980 by the charismatic Chrissie Hynde. Ever since their blistering first album energized the new music scene, the Pretenders have put out memorable music, and Chrissie has become an icon and role model for strong women in music and other fields. At this event, we gave away tickets to the Pretenders & B-52 concert during summer '98.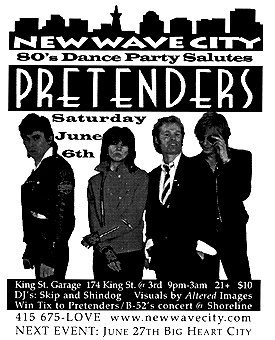 ---
Talking Heads Salute, Big heart City, June 20, 1998
We saluted New Wave pioneers the Talking Heads for this 18 and over night.



---
Fourth of July British New Wave Invasion, King Street Garage, July 4, 1998
On this all-American holiday, we saluted the land of lords and monarchs as we devoted all night to New Wave music from the United Kingdom. The interior of the King Street Garage was adorned with Union Jack flags and British decorations, as the sound system pumped out the punk sounds of the Pistols, the mod musings of the Jam, the cockney swagger of Billy Idol, the sweeping sythesizers of Scots Simple Minds, the Irish spirit of the Undertones, the London savoir faire of Adam Ant, the Mancunian melancholy of Morrissey and the Smiths, and much more.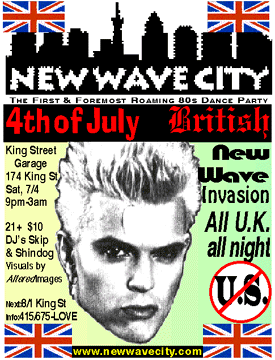 ---
Salute to Human League and synth, King Street Garage, August 1, 1998
We saluted the act that brough us one of the biggest hits of the New Wave era was "Don't You Want Me", none other than Sheffield, England's Human League, playing sets of their vintage 80s music, along with their synth-pop cousins of the era. We gave out free CD's and posters from the new releases from ARK 21 "The Very Best of Human League", and "People" by Howard Jones, with all new material, as well as freebies of the new video release of The Wedding Singer with VHS tapes and CD soundtracks.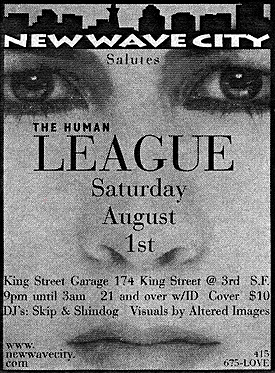 ---
Labor Day Weekend Bash, CW Saloon, September 6, 1998
Once again, during one of our nation's traditional 3 day holiday weekends, New Wave City dragged out the grill to put on our New Wave Barbecue with the tastiest meal for under four bucks that you can get from a Folsom Street sidewalk, and the smoothest beer to be had for under a buck anywhere. After the grill cooled off, we presented a live show with the Nguyens, SF's band devoted to the music of the Smiths, who played the hits and other gems for hardcore Smiths fans, complete with flowers and a gyrating faux Morrissey. All followed by dancing to the best in New Wave and a chance at New Wave Karoake in the back room.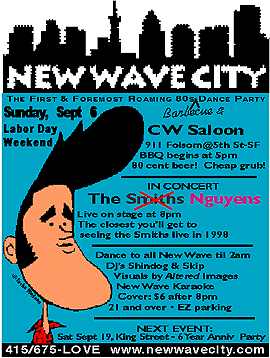 ---
Six Year Anniversary Party, King Street Garage, September 19, 1998
New Wave City marked the end of its sixth year, after putting on more than one hundred events in more than two dozen venues. Wew began with our first members-only party, with card-holding members arriving early for celebratory champagne and snacks. Our buddy and longtime supporter videotaped and interviewed the partyers, later shown on the big video screen, and likely to show up at future events. Videos, including many rare music videos ran all night, as part of our visual presentation. A 6-year visual retrospective with photos and flyers was on display for everyone to relive their memories of when they first came to the club parties. In the midnight hour, we awarded 80 New Wave dollars as prizes (all bills minted in the 80s) for our New Wave 80s Fashion Contest and New Wave 80s Dance Contest. Other giveaways included concert tickets to the Motels and CD samplers from the Sedated in the Eighties series.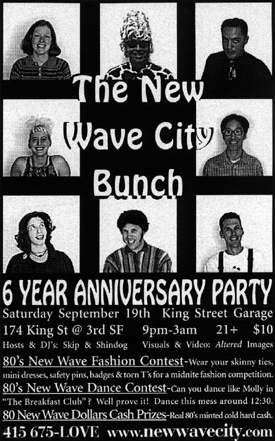 ---
Salute to Depeche Mode, King Street Garage, October 3, 1998
Our salute to influential synth-kings DM (the third such event in our history) was in honor of their latest greatest hits collection "The Singles 86-98," which were featured as giveaways.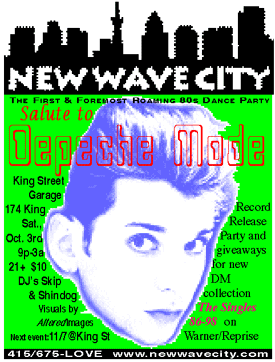 ---
Salute to the Smiths, King Street Garage, November 7, 1998
For our annual tribute to the timeless music or Morrissey and Marr, there was, of course, lots of Smiths during the night, a return of the "How Soon Is Now" singalong (last having taken place in September 1995), and a "Hang the DJ" contest. Three lucky winners passed our trivia test and threw out the DJ in order to select three songs each to play for the crowd.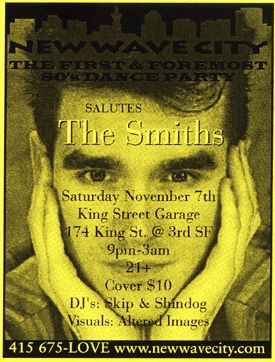 ---
Salute to U2, King Street Garage, December 5, 1998
In honor of their recent hits collection, we paid tribute to this groundbreaking act who went from cult heros to international superstars. The club was draped with white flags from the balcony, recalling Sunday Bloody Sunday, while the crowd danced to special sets of early U2 music. Dozens of lucky winners walked away with prizes from U2: The Best of 1980-1990 before the night was done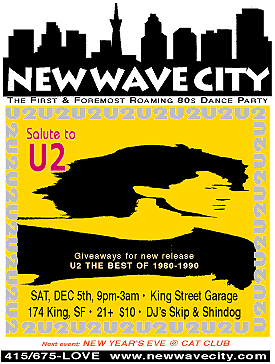 ---
New Wave Eve, Cat Club, December 31, 1998
New Wave City joined forces with Club 1984 for this grand event bringing in the new year of 1999. Sure it was crowded, but as expected, it was perhaps the coolest club in town with great vibes and rockin' music to celebrate and party like it's (I'm NOT going to say it!)