Past Events – 1997
The Clash Rock the Casbah Night - Trocadero, January 11, 1997
Salute to Vintage Goth - Trocadero, February 8, 1997
Cyndi Lauper Record Release Party - Martini Lounge, March 29, 1997
Stray Cats Salute - Cat's Grill, March 15, 1997
Depeche Mode Record Release Party, King Street Garage, Saturday, April 19, 1997
The Black & Black Ball, King Street Garage, Saturday, May 10, 1997
Cruel Summer Kickoff Party, CW Saloon, Sunday, May 25, 1997
The Class of '77, King Street Garage, Saturday, June 21, 1997
Gary Numan Salute, King Street Garage, Saturday, July 5, 1997
New Wave Video Night, King Street Garage, August 2, 1997
End of Summer Bash, CW Saloon, Sunday, August 31, 1997
5 Year Anniversary Party & Smiths Salute, King Street Garage, September 6, 1997
Cure Salute, King Street Garage, October 4, 1997
Halloween On Planet Earth/Duran Duran Salute, Club Townsend, October 31, 1997
New Order salute/New Wave Film Fest party, King Street Garage, December 6, 1997
New Wave Eve, CW Saloon, December 31, 1997



---
The Clash Rock the Casbah Night - Trocadero, January 11, 1997
This event featured a salute to the seminal band The Clash, with sets of their music played during the night. And taking a cue from their crossover hit "Rock the Casbah," New Wave City took on a Middle Eastern-theme for the night, with the dance floor of the Troc draped as a shiek's tent, and a knockout bellydancing extravaganza at midnight. The New Wave City Bellydancers consisted of a trio of very talented women in exotic costumes, who are also very cool ladies who know their New Wave! After a traditional Arabic song, they danced skillfully right into the Clash's "Rock the Casbah"! We also gave away tickets to actually see the Clash!... the San Jose Clash soccer team, that is. And speaking of giveaways, our lucky online winner, revtech@nltc.com, enjoyed himself thoroughly.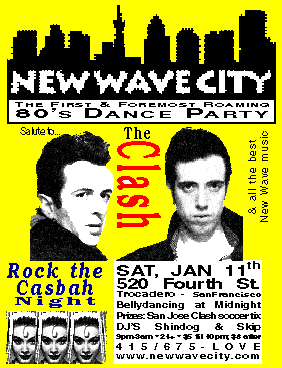 ---
Salute to Vintage Goth - Trocadero, February 8, 1997
Special focus on this night was to the bands who are credited with starting the Goth movement: Siouxsie and the Banshees, Bauhaus and early Peter Murphy, Joy Division, Sisters of Mercy, Cure, etc. New Wave City alumnus Ira V. even guest DJ'ed with his Vintage Goth faves, by the likes of Killing Joke and Red Lorry Yellow Lorry. Gothis visuals played on the Troc's big screen, including the opening from the movie "The Hunger" with Bauhaus intoning "Bela Lugosi's Dead." We also gave away movie passes and prizes from TOUCH.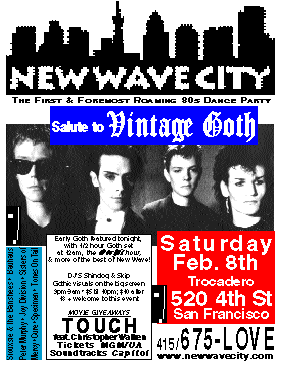 ---
Cyndi Lauper Record Release Party - Martini Lounge, March 29, 1997
Girls (and boys) just wanted to have fun - and they did, when we held a record release for a true New Wave original: Cyndi Lauper. We featured giveaways from her new Epic release "Sisters of Avalon" with the single "You Don't Know." The video of the song had the crowd mesmerized.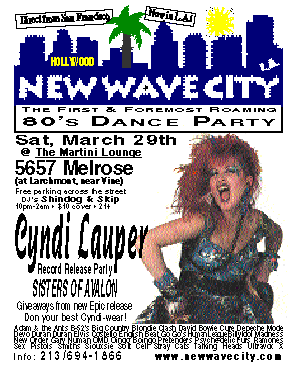 ---
Stray Cats / Brian Setzer / Rockabilly Salute - Cat's Grill & Alley Club, March 15, 1997
While Brian Setzer came into town over this weekend, NWC honored the band that made him famous - the Stray Cats! Skip & Shindog really Rocked This Town by playing sets of the Cats, plus other rockabilly flavored acts like the Blasters, Robert Gordon, Polecats, Cramps, Nick Lowe, X, etc. We gave away CD's of the new definitive Stray Cats greatest hits on EMI, Runaway Boys: A Retrospective '81-'92. The goods went to the coolest rockabilly cats and kittens with the Best Pompadour, or Best Faux Feline Wear. Shindog even chopped his locks and greased it straight up for the occasion, but still could not compare the contestant #8, Sean, with the tiger collar on his suit coat, and the outtasight blonde pompadour. Go cat, go!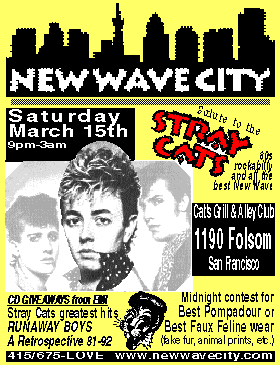 ---
Depeche Mode Record Release Party, King Street Garage, Saturday, April 19, 1997
It was another new venue for NWC - our 16th location for our events - for this Release Party and Salute for those new wave faves - dark kings of synth - Depeche Mode. We gave away lots of prizes from the new Reprise release ULTRA, and played sets of their classics for those who "just can't get enough." It was a great night to play "master and servant" at this totally cool venue - we're scheduled for more events there in coming months. The San Francisco Chronicle stopped by to take pictures of some of our very new wave crowd for an upcoming story on the eighties.



---
The Black & Black Ball, King Street Garage, Saturday, May 10, 1997
New Wave City's BLACK AND BLACK BALL, presented for the first time since 1993, was again the perfect alternative to the symphony's high-falutin' Black & White Ball, without the attitude, with much cooler music and people, and at 1/35 the price! And a totally rockin' poster with coverboy and girls Skip, Deborah, and Erron (yes, the mystery legs are finally revealed!) The whole New Wave City crowd looked great in black, including some fetishy outfits, with perhaps the highlight being the black liquid-latex painted-on shirt on Gehan (he didn't last very long in it though, and ceremoniously had it peeled off.) The nattily noir set got souvenir pictures taken at the photo booth put on by local charity Philanthropy By Design. At our midnight black balloon drop, we gave away prizes including Erasure "Cowboy" CD's and posters, Depheche Mode "Ultra" prizes, "Men In Black" movie prizes, Oingo Boingo goodies, and more. Melting Girl from the goth/industrial club Death Guild joined us as co-hostess and guest DJ for a special midnight set. Best of all: Willie Brown was a no-show!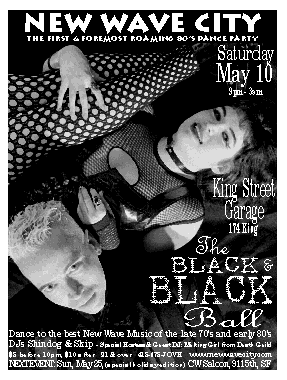 ---
Cruel Summer Kickoff Party, CW Saloon, Sunday, May 25, 1997
Our Memorial Day holiday weekend event featured the first ever New Wave City barbecue! We started at 5pm, with grillmeister Skip cookin' up some mean dogs and burgers, while guest DJ Tim spun New Wave tunes for everyone to eat to the beat. With this fine food and 80 cent beers getting everyone energized, feet started shuffling on the dance floor by 8pm, for an entire night of New Wave madness. As the dance floor filled up, others chose to warble their own New Wave songs in the Karaoke Kitchen in the back. We gave away over 100 fun summertime door prizes, including concert tickets for Andy Summers, former Police guitarist, at Kimball's East, Hula Hoops from the "Very Brady Sequel" movie, preview passes for the comedy "Trial and Error" and the Welsh film "Twin Town" as well as posters for"Men In Black" and Erasure's "Cowboy".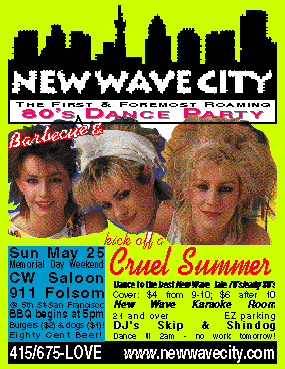 ---
The Class of '77, King Street Garage, Saturday, June 21, 1997
This year's graduations had come and gone, and while the summer reunion parties of graduations past start coming, on this night we celebrated the musical graduating class of 1977, the year when punk/new wave came of age. We gave away new music from two of that year's valedictorians, representing both sides of the Atlantic: John Lydon (formerly Johnny Rotten of the Sex Pistols), and David Byrne (former Talking Head.) Lydon's Psycho's Path on Virgin includes collaborations with Moby, Chemical Brothers and LeftField, and Byrne's Feelings on Luaka Bop/Warner Bros. has him working with members of Devo and Morcheeba. Other artists known for developing in 1977 that we played : Clash, Jam, Boomtown Rats, Ramones, Blondie, Damned, Generation X, Elvis Costello, etc.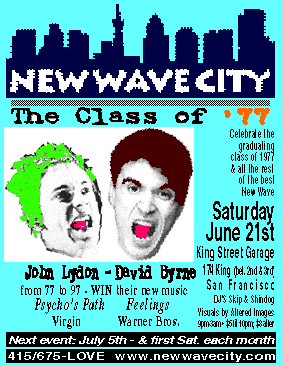 ---
Gary Numan Salute and giveaway night, King Street Garage, July 5, 1997
Music and image innovator Gary Anthony James Webb (aka Gary Numan) received the New Wave City tribute treatment, higlighted by giveaways of two new CD packages. We played lots of doses of the best of Numan during the night, and gave away new Numan releases from Beggar's Banquet. The first 60 customers received a special "Cars" remix CD, with 5 different versions of Numan's classic song. And randomly selected qualifiers took the Numan quiz to win one of two prizes: Random, a two CD set of today's artists paying homage to Numan's influence as they interpret his songs, and the GRAND PRIZE of the recently released Premier Hits, the definitve Gary Numan greatest hits package - SIGNED BY GARY NUMAN HIMSELF! Samples from the quiz: GN's earlier stage name - Valerium; GN's uncle, played drums on 1st Tubeway Army tracks - Jess Lidyard; name of UK company where GN worked until he quit for music fulltime - W.H. Smith.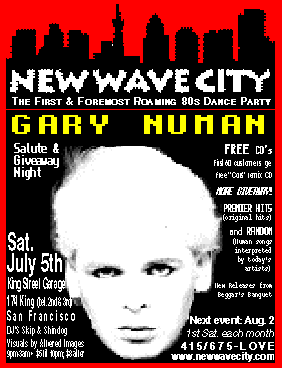 ---
New Wave Video Night, King Street Garage, August 2, 1997
600 NWC fans got a chance to see, hear and dance to videos on big screen, as we rolled many classics from the New Wave era. Featured CD giveaways were from Rhino's "VH1 More Of the Big 80's," the latest collection from the video channel's salute to the decade. The accompanying videos shown included the Toni Basil's cheerleading "Mickey," the overalled Dexy's Midnight Runners in "Come On Eileen," Stray Cats in their rockabilly finest doing "Stray Cat Strut," - you get the picture. We also gave away movie passes to "Career Girls" - the latest film by Mike Leigh (Secrets & Lies) - a funny and poignant story that happens to feature many scenes in flashback to the 80's, with soundtrack music by The Cure.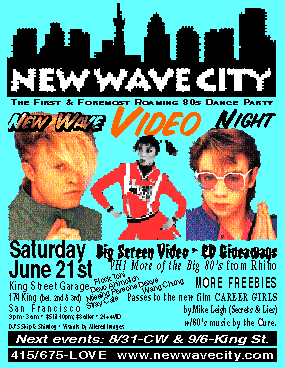 ---
End of Summer Bash, CW Saloon, Sunday, August 31, 1997
We held another long weekend party over the three day Labor Day weekend starting with our patented New Wave Bar-B-Que with dollar dogs, two buck burgers, and 80 cent drafts. San Francisco clothing company Paka Design (Shindog's company!) gave away some of their casual clothing in hemp and organic company, beautifully modelled by the luscious Dina. From 9pm on, the party rocked with a packed dance floor, wackiness in the New Wave Karaoke Room, CD and prize giveaways from Arista's "Ultimate New Wave Dance Party" (kind of sounds like New Wave City) and drinks poured at the bars by the CW's groovy Bob, Eileen and Din.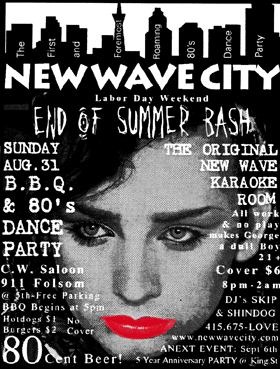 ---
5 Year Anniversary Party & Smiths Salute, King Street Garage, September 6, 1997
Our 83rd event marked our 5th Anniversary, with a tribute to the Smiths thrown in for good measure. Starting with our traditional early complimentary VIP party, our invited guests swilled champagne, noshed on snacks, and viewed the New Wave City Wall of Fame, where all our past promo flyers, press articles and photos from 5 years of events were on display. As part of the Smiths salute, we gave away CD's and prizes from Morrissey's release "Maladjusted," and tickets for his Warfield concert, awarded via a Morrissey lip-synch contest, which had three total ringers in the top slots for the goodies.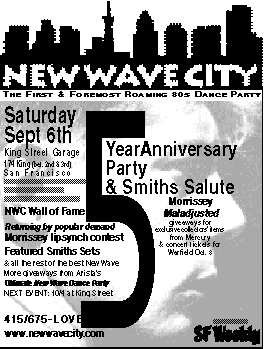 ---
Cure Salute, King Street Garage, October 4, 1997
One of the most popular NWC acts got the salute treatment this night, as we delved deep in to the Cure's late 70's/early 80's catalog. Our friends at Elektra came through with sets of CD singles from their last release "Wild Mood Swings" as giveaways, as well as Rhino's latest Just Can't Get Enough CD release: "New Wave Dance Hits of the 80's."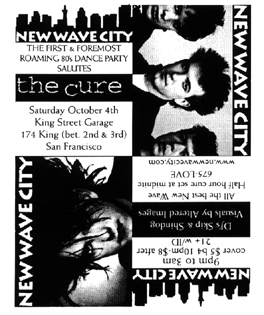 ---
Halloween On Planet Earth/Duran Duran Salute, Club Townsend, October 31, 1997
New Wave City celebrated "Halloween on Planet Earth," named for the timeless 80's song by Duran Duran, who received the salute tribute at this event. This was our biggest event ever - at 177 Townsend with lots o' room to show off all the great costumes. The club was a visual treat with the bar turned into a planetary showcase and slides and videos showing on multiple screens, including classic Duran music videos. We gave away 80 prizes in our 80's Icon Costume Contest, including CD's and prizes from the new Duran Duran release Medazzaland, as well as more music and prizes for the new Cure collection Galore, the new Duran Duran Tribute Album, tickets to see Duran Duran's upcoming concert, and movie passes to the Red Victorian New Wave Film Fest. Grand prize winners were the Robert Palmer "Addicted to Love" girls, and Gene Simmons from Kiss.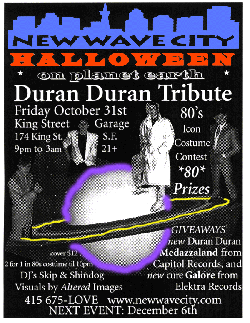 ---
New Order salute/New Wave Film Fest party, King Street Garage, December 6, 1997
New Wave City saluted New Order as part of our co-sponsorship of the New Wave Film Festival at the Red Victorian Movie House. We played hefty doses of the thinking man's dance band: New Order, as well as cuts from soundtracks from the films featured at the Red Vic Festival: Pretty In Pink, Repo Man, The Hunger, Sixteen Candles. The call went out to Molly-wannabes for a Molly Ringwald lookalike, and we had ten or so respectable entries with the top doppelgangers winning tix to the flicks at the Red Vic and the best facsimile winning her own copy of Pretty In Pink on video and the new book Pretty In Pink, a survey of 80s teen movies.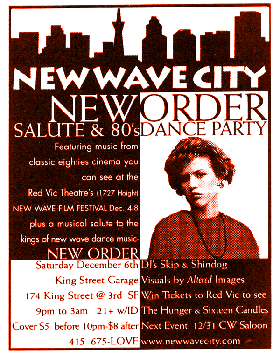 ---
New Wave Eve, CW Saloon, December 31, 1997
While the rest of the world welcomed the second to last year of the nineties, New Wave City returned to the eighties for this special New Wave Eve party. The CW was packed all through the club, including the back karaoke room, with just enough room to raise champagne glasses and let the balloons come down at midnight.