Past Events – 2002

Battle of the Birthday DJ's, King Street Garage, January 19, 2002
New Romantic Night, King Street Garage, February 2, 2002
B-52's Salute, King Street Garage, March 2, 2002
Salute to Siouxsie & the Banshees, King Street Garage, April 6, 2002
Synth City, King Street Garage, May 11, 2002
R.I.P. to King Street Garage, and Salute to New Wave Beyond the Grave, June 1, 2002
Depeche Mode Tribute, Justice League, July 6, 2002
Salute to Joy Division & New Order, DNA, August 9, 2002
Closing Night at the CW Saloon, August 31, 2002
Mission UK concert, Pound-SF, September 9, 2002
10 Year Anniversary Party, Space 550, September 20, 2002
Sisters of Mercy salute, Rawhide, October 5, 2002
Cure salute, Rawhide, November 9, 2002
New Wave City vs. She Said, Cat Club, November 23, 2002



---
Battle of the Birthday DJ's, King Street Garage, January 19, 2002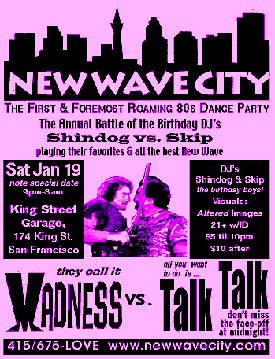 ---
New Romantic Night, King Street Garage, February 2, 2002
A fashion show by Wicked Bitch Brazir and great music highlighted our annual celebration of the New Romantic genre, with lots of Duran Duran, Adam Ant, Japan, Ultravox, and lots more make-up, synth-dance beats and frilly shirts.




---
B-52's Salute, King Street Garage, March 2, 2002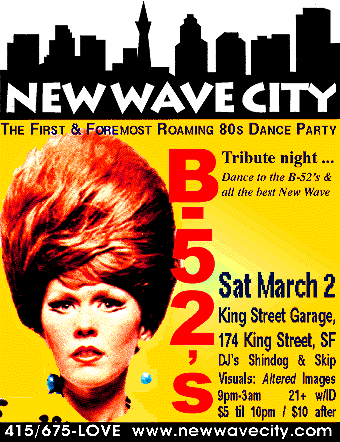 ---
Salute to Siouxsie & the Banshees, King Street Garage, April 6, 2002
In honor of their reunion tour, we paid tribute Siouxsie & the Banshees, playing lots of their music, and featuring big screen video, with classic clips of Siouxsie and others. Our giveaways were for CD's from the classic Siouxsie & the Banshees catalog on Geffen/Universal, and one lucky winner got a pair of tickets to the San Francisco Warfield show on April 25, one of only four U.S. shows of the reunion!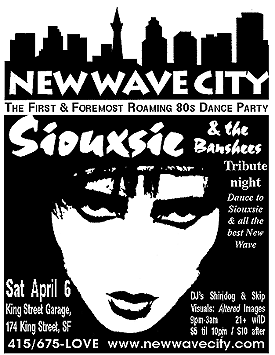 ---
Synth City, King Street Garage, May 11, 2002
Special focus on synthesizer-based New Wave bands, like Human League, OMD, Flock of Seagulls, Soft Cell, Depeche Mode, Kraftwerk, etc.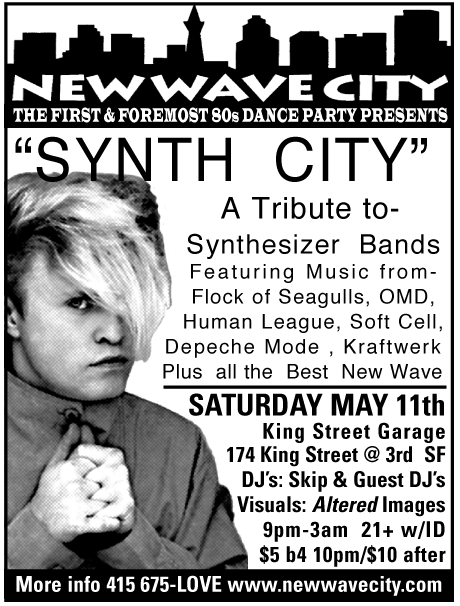 ---
R.I.P. to King Street Garage, and Salute to New Wave Beyond the Grave, June 1, 2002
This was our final event at our home for 5 years: the King Street Garage, and and also a salute to dead New Wavers.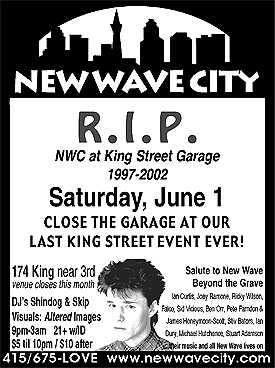 ---
Depeche Mode Tribute, Justice League, July 6, 2002
Our first post-King Street event was at a new venue for us: the Justice League, site of the former Kennell Club. With Depeche Mode as our theme for the night, we christened a new venue in style.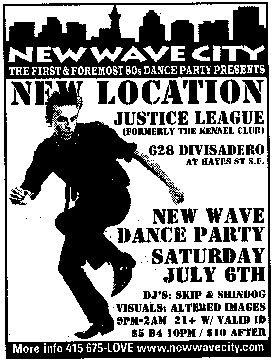 ---
Salute to Joy Division & New Order, DNA, August 9, 2002
Another first time in a venue, this time the celebrated DNA Lounge, where we celebrated the legacies of Joy Division and New Order, in honor of the film 24 Hour Party People.



---
Closing Night at the CW Saloon, August 31, 2002
New Wave City rang the death knell at this club, also known as the Covered Wagon, as this was the final night of operation for the longtime owner of the venue.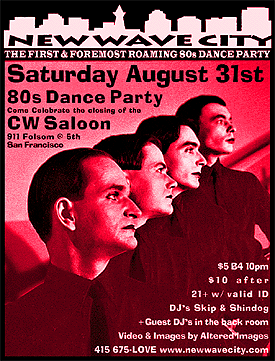 ---
Mission UK concert, Pound-SF, September 9, 2002
New Wave City co-presented the show and will DJ before/between acts, featuring Wayne Hussey and band playing in support of their new release "Aura" and satisfying longtime fans with their past glories.


---
10 Year Anniversary Party, Space 550, September 20, 2002
If you didn't make this one, you missed a great event, celebrating a full decade's worth of New Wave Cities. As is our tradition, we opened with an early VIP party, spending "quality time" together with members, old friends, and a very special guest who dropped by: Robert Seidler, known for his hit "Christian Boy" and countless exciting Bay Area gigs in the 80s. Free flowing champagne and awewome food by Ryann helped set the festive mood.

We filled up the three DJ rooms at Space 550 with New Wave City DJs and hosts Shindog & Skip in the big ballroom; the Church of Second Thursdays put on a version of their monthly "Sin" party, with DJs Margo & Sage spinning the darker side of the 80s & 90s; and upstairs was the UK lounge with DJs John & Tim spinning tunes from the British Isles. Brian Raffi, original guest DJ from the very first event, and then a New Wave City partner in the early years, showed up to spin and get down with us, which was a big treat.

Shindog & Skip got a big surprise at around 11pm as they got pulled onstage for a roast, secretly organized by Christina & Tia. New Wave City regulars, fellow club promoters and DJs, and longtime friends, all got a chance to praise or poke fun at us (we survived pretty unscathed.) Thanks to all involved for the kind words and all the effort that went into it, especially in hiding it from us!

In the months leading to the anniversary, everyone had a chance to vote for their favorite New Wave song, which were tallied and played at the event as the "Top Ten New Wave Songs Of All Time," which were
Honorable Mention: "Seconds" by The Human League
10. "Never Say Never" by Romeo Void
9. "I Melt with You" by Modern English
8. "Space Age Love Song" by A Flock of Seagulls
7. "Tainted Love" by Soft Cell
6. "Everything Counts" by Depeche Mode
5. "The Promise" by When in Rome
4. "Love Will Tear Us Apart" by Joy Division
3. "It's My Life" by Talk Talk
Tie at # 2.
"Bizarre Love Triangle" by New Order
"There is a Light That Never Goes Out" by The Smiths
And the Number One New Wave Song of All Time is...
"Swamp Thing" by The Chameleons UK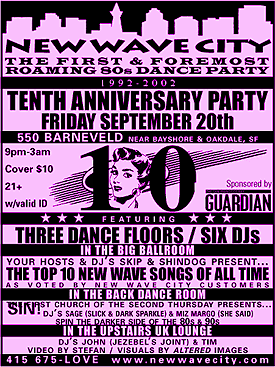 ---
Sisters of Mercy salute, Rawhide, October 5, 2002
Everyone dug our first time at this venue, enhanced by plenty of Sisters, including a set by guest DJ Luna.



---
Cure salute, Rawhide, November 9, 2002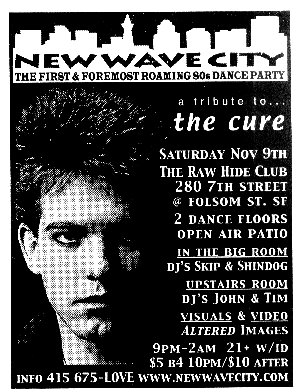 ---
New Wave City vs. She Said, Cat Club, November 23, 2002
"She Said," the cool DJ/drinking night billed as "The American Nightmare," invited NWC to throw down with them for this joint event.