Past Events – 2001

Battle of the Birthday DJ's (Jam vs. Joy Division), King Street Garage, January 6, 2001
Tribute to Vince Clarke, Space 550, January 20, 2001
New Romantic Night, King Street Garage, February 3, 2001
New Wave City meets Ballroom Blitz, Space 550, February 18, 2001
Clash Rock the Casbah Night, King Street Garage, March 3, 2001
Tears for Fears Salute, King Street Garage, April 7, 2001
Depeche Mode Salute & CD Release Party, King Street Garage, May 12, 2001
Memorial Day Tribute to Joey Ramone, Pound-SF, May 27, 2001
The Black & Black Ball, King Street Garage, June 2, 2001
Seven Deadly Synths, King Street Garage, July 7, 2001
The Fixx, live in concert, Pound-SF, July 20, 2001
New Wave Pajama Party, King Street Garage, August 4, 2001
Nine Year Anniversary Party, King Street Garage, September 8, 2001
New Order salute & CD release party, King Street Garage, October 13, 2001
Cure salute & CD release party, King Street Garage, November 3, 2001
Salute to the Smiths, King Street Garage, December 1, 2001
New Year's Eve Party, CW Saloon, December 31, 2001



---
Battle of the Birthday DJ's (Jam vs. Joy Division), King Street Garage, January 6, 2001
In honor of their birthdays this month, New Wave City producers and DJ's Skip and Shindog each picked one of their favorite acts for competing themes at this event. Shindog's pick was The Jam, while Skip's choice was Joy Division. The dark side prevailed: crowd response went to Joy Division, who won the battle!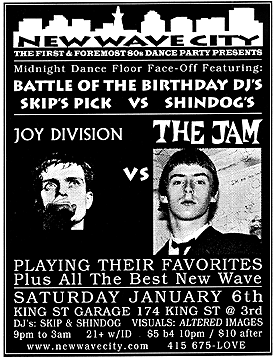 ---
Tribute to Vince Clarke, Space 550, January 20, 2001
We returned to the wonderful club at 550 Barneveld for the first time in a year and a half, featuring the talents of Vince Clarke, saluting Erasure in the main room, and early Depeche Mode and Yaz in the back room. Guest DJ's Tim, John, Tia and Ira helped round out the night.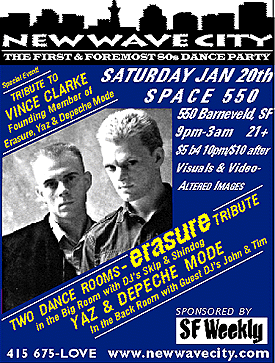 ---
New Romantic Night, King Street Garage, February 3, 2001
Our Pre-Valentine's Party featured the New Romantic sounds of Duran Duran, ABC, Visage, Adam Ant, Spandau Ballet, etc. Lots of eyeliner, ruffles and creative hair in the crowd that night!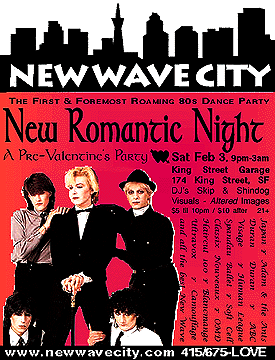 ---
New Wave City meets Ballroom Blitz, Space 550, February 18, 2001
The multiple room setup at 550 Barneveld provided the opportunity for two great club nights in one: New Wave City in the main dance room, and Ballroom Blitz in the back room. Upstairs it was the debut of the UK Lounge, with ska, Britpop and more. Joining Skip and Shindog at the DJ controls were Damon, Tim, Tia, Scotty and Kirk.



---
Clash Rock the Casbah Night, King Street Garage, March 3, 2001
King Street became the Casbah, with a Mideast flair, as we played lots of Clash through the night, and featured a dynamite performance by a troupe from Fat Chance Belly Dance... belly dancing traditional music, followed by 'Rock the Casbah".. awesome!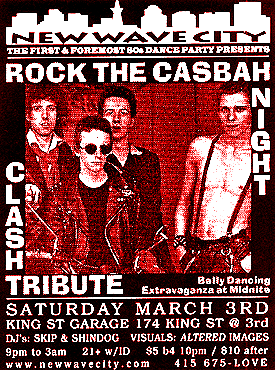 ---
Tears for Fears Salute, King Street Garage, April 7, 2001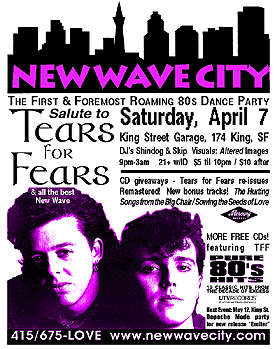 ---
Depeche Mode Salute & CD Release Party, King Street Garage, May 12, 2001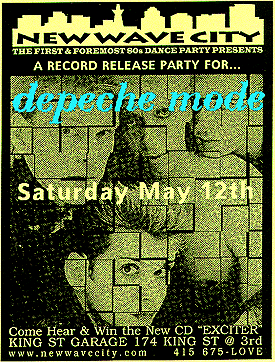 ---
Memorial Day Tribute to Joey Ramone, Pound-SF, May 27, 2001
Our version of Memorial Day was to pay tribute to the recently deceased father of punk/new wave: Joey Ramone. Within one hour series we presented mini-sets by some of SF's finest musicians playing all Ramones tunes. It blew the roof off of "the Pound" nightclub, with each act channelling Joey's spirit in their own style. The crowd loved them all: Blue Period, The Hell Brothers, Barbee Killed Kenn, and Dirty Pansy (with members of Pansy Division and Dirty Power.) We started out with our traditional New Wave BBQ with good eatin' from the grill and cheap beer. Long live Joey! Hey Ho Let's Go!

Read about it in the San Francisco Herald.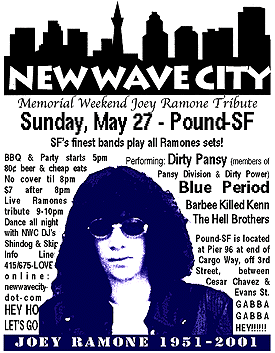 ---
The Black & Black Ball, King Street Garage, June 2, 2001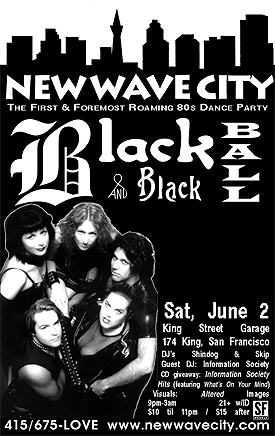 ---
Seven Deadly Synths, King Street Garage, July 7, 2001
On the 7th day of the 7th month, we featured the Seven Deadly Synths, celebrating the best of the New Wave synth-pop acts.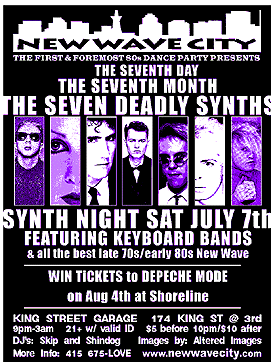 ---
The Fixx, live in concert, Pound-SF, July 20, 2001
New Wave City co-sponsored this live show with the original lineup of the hit 80s New Wave act The Fixx.! Led by vocalist/keyboardist Cy Curnin, The Fixx put on an energetic, great sounding show that did not disappoint. Venus Bleeding opened up, and Skip from New Wave City spun tunes between acts.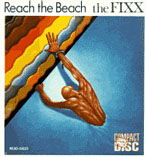 ---
New Wave Pajama Party, King Street Garage, August 4, 2001
---
Nine Year Anniversary Party, King Street Garage, September 8, 2001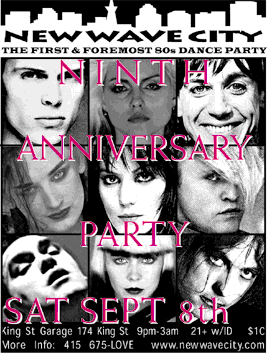 ---
New Order salute & CD release party, King Street Garage, October 13, 2001
In honor of their first new release in 8 years, Get Ready, we gave the salute treatment to New Wave landmark act New Order.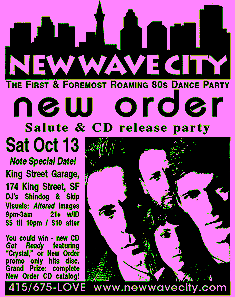 ---
Cure salute & CD release party, King Street Garage, November 3, 2001
A Robert Smith lookalike contest, lots of great Cure music, free copies a the new Greatest Hits CD, Cure video on big screen all night, a grand prize of the entire Cure CD catalog...it was Cure, Cure, and then some more Cure.
All of you who attended helped contribute to donations for the New York Firefighters 9/11 Disaster Relief Fund (administered by the International Association of Firefighters), and the SFFD Toy Program. Due to a special matching funds program, the total funds donated amounted to $3,700, not to mention a bag full of toys that would have made Santa proud! Special thanks to Tia Mignonne in coordinating the donations. Information, including how you can still donate, can be found at: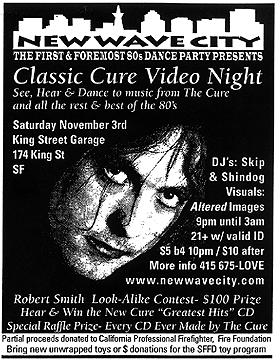 ---
Salute to the Smiths, King Street Garage, December 1, 2001
It was a night of nine letters T-H-E S-M-I-T-H-S. Smiths & Morrissey tunes along with the rest of New Wave. Plus giveaways for"The Best of Morrissey" CD from Rhino/Warners.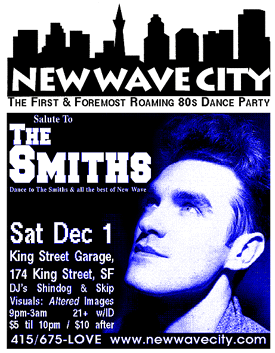 ---
New Year's Eve Party, CW Saloon, December 31, 2001