Past Events – 2000

Battle of the Birthday DJ's Shindog vs. Skip play Oingo Boingo vs. The Chameleons, King Street Garage, January 8, 2000
New Romantic Night, King Street Garage, February 5, 2000
Clash & New Wave's Founding Fathers, CW Saloon, February 20, 2000
Peter Murphy & Bauhaus Tribute, King Street Garage, March 4, 2000
Guest Appearance at Bondage A Go Go, & Salute to Elvis Costello, March 22, 2000
Go-Go's Tribute Night, April 1, King Street Garage, 2000
Salute to Depeche Mode, King Street Garage, May 6, 2000
Summer Kick Off Party, CW Saloon, May 28, 2000
Salute to The Cure, King Street Garage, June 3, 2000
Duran Duran Tribute Night, King Street Garage, July 1, 2000
Space Age Love Prom, Club Townsend, July 21, 2000
Siouxsie and the Banshees Salute, King Street Garage, August 5, 2000
Labor Day Weekend New Wave BBQ & Dance Party, CW Saloon, September 3, 2000
Eight Year Anniversary Party, King Street Garage, September 9, 2000
Bangles Reunion Concert, Maritime Hall, September 17, 2000
Salute to Sisters of Mercy, King Street Garage, October 7, 2000
Birthday Party for Adam Ant, King Street Garage, November 4, 2000
Salute to the Smiths, King Street Garage, December 2, 2000
2001 A New Wave Odyssey, Pound-SF, December 31, 2000



---
Battle of the Birthday DJ's Shindog vs. Skip play Oingo Boingo vs. The Chameleons, King Street Garage, January 8, 2000
In honor of their birthdays this month, New Wave City producers and DJ's Skip and Shindog each picked one of their favorite acts for competing themes at this event. Shindog's pick was Oingo Boingo (Dead Man's Party, Only a Lad, Weird Science, etc.), while Skip's choice was Chameleons (Swamp Thing, In Shreds, Tears, etc.) This year, it was an upset by the underdog: crowd response went to Chameleons, who won the battle!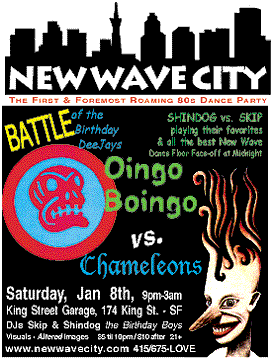 ---
New Romantic Night, King Street Garage, February 5, 2000
As a warmup for Valentine's Day, we turned the focus the New Romantic era, playing extra doses of bands like Duran Duran, ABC, Visage, Adam Ant and Spandau Ballet. Lots of fans got in the spirit with pirate gear, ruffles and lots of eyeliner. We also featured a New Romantic photo booth where many of you got your picture taken with your one of your New Wave faves (as a lifesize photo image) and with your friends.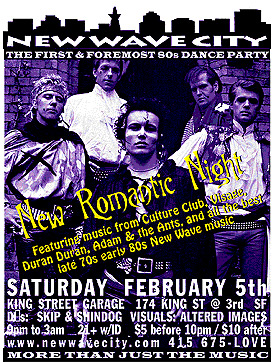 ---
Clash & New Wave's Founding Fathers, CW Saloon, February 20, 2000
In honor of President's Day Weekend, we paid tribute to New Wave's Founding Fathers, including the Clash and other early New Wave/punk artists. With the Clash's catalog in recent rerelease and a new compilation and live CD, we featured lots of giveaways from Sony Music.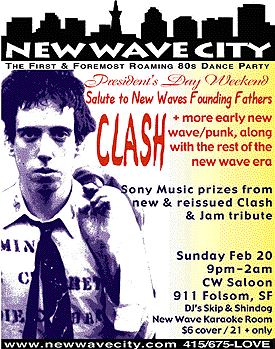 ---
Peter Murphy & Bauhaus Tribute, King Street Garage, March 4, 2000
In honor of Peter Murphy's concert that same week, we paid tribute to his music, including his solo efforts and his groundbreaking work with Bauhaus. Beggar's Banquest helped us celebrate with giveaways of Murphy's new compilation: Wild Birds 1985-1995.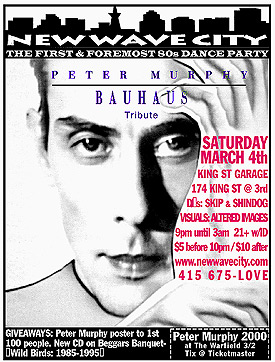 ---
New Wave City Guest Appearance at Bondage A Go Go
& Salute to Elvis Costello, March 22, 2000
The City's legendary naughty but nice club night known as Bondage A Go Go brought New Wave City as a guest promoter in its first weeks at its new location. Although the venue is now Polly Esther's, it used to be known as Club 181 and was a cool, early 80s spot. New Wave City rocked downstairs with an Elvis salute night (and free tickets to see High Fidelity), with a smattering of Elvis lookalikes shaking it on the dance floor.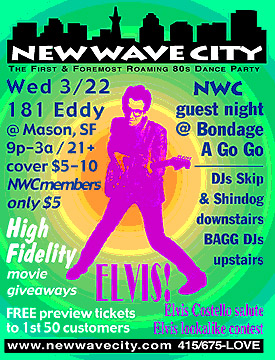 ---
Go-Go's Tribute Night, April 1, King Street Garage, 2000
The entire club got the beat for our salute to New Wave's reigning women. The Go-Go dance contest was one by a certain Belinda-esque NWC veteran. The night went off without a hitch, even though it was the first time we dealt with a night game at our neighboring new ballpark across the street. (No other night games are scheduled on NWC events this year.)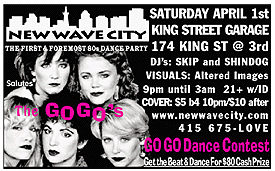 >
---
Salute to Depeche Mode, King Street Garage, May 6, 2000
We celebrated the birthday of Depeche Mode lead singer Dave Gahan with our salute to that landmark New Wave act. A giant birthday card to Dave was signed with best wishes by many devoted New Wave City fans, which was sent off to him in England. We lit the birthday candles and served some cake for Dave and gave away lots of movie tickets and copies of UTV's "More Pure 80s" CD as part of the celebration.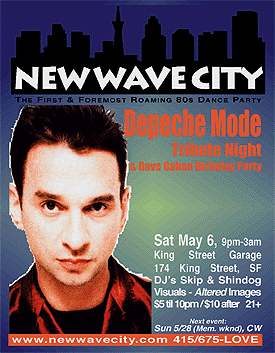 ---
Summer Kick Off Party, CW Saloon, May 28, 2000
Memorial Day tradition carried on with our summer kick-off New Wave BBQ & Dance Party! Guest DJ John spun so we could eat to the beat for tasty grub from the grill in the early evening. Skip's Second Annual 80s Trivia Contest stumped us on a few questions, followed by the dynamic Devo tribute band Mongoloid onstage for an incredible display of the sights and sounds of the spudboys from Akron, Ohio. We gave away a bunch of the new Devo collection on Rhino "Pioneers Who Got Scalped." With dancing the rest of the night and New Wave karoake in the back lounge, it was a perfect holiday weekend evening.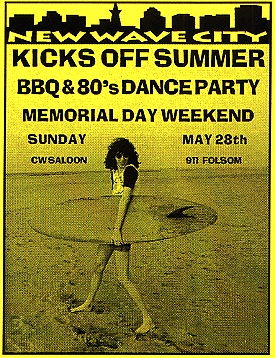 ---
Salute to The Cure, King Street Garage, June 3, 2000
In honor of their Bay Area concert the previous night, New Wave pioneer act The Cure was featured in a NWC tribute at this event, with lots of their classic music, and CDs and prizes from the recent Cure release Bloodflowers on Elektra.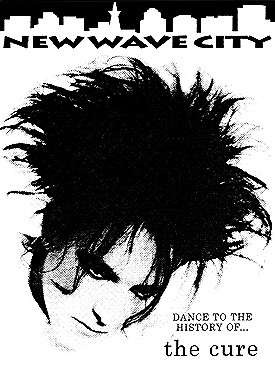 ---
Duran Duran Tribute Night, King Street Garage, July 1, 2000
In honor of their new release Pop Trash, New Wave legends Duran Duran got the NWC tribute treatment, with lots of their classic music keeping the dance floor happy.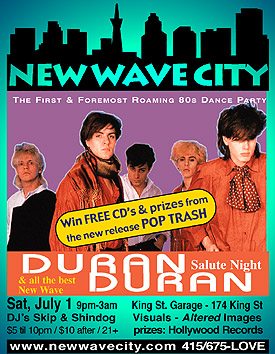 ---
Space Age Love Prom, Club Townsend, July 21, 2000
New Wave City presented its second annual New Wave Prom Night, with the theme "Space Age Love Prom" (after the Flock of Seagulls hit Space Age Love Song.)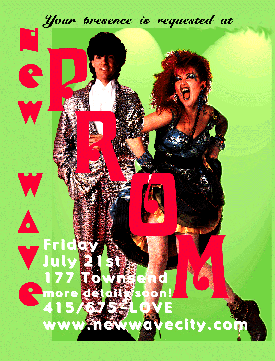 ---
Siouxsie and the Banshees Salute, King Street Garage, August 5, 2000
It was an evening of two "cult queens" with lots of music by Siouxsie Sioux, and John Waters films playing on video, plus free passes to see Cecil B. Demented.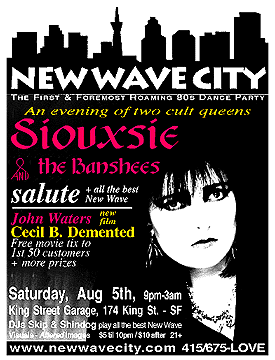 ---
Labor Day Weekend New Wave BBQ & Dance Party, CW Saloon, September 3, 2000
More BBQ, more karaoke, more 80s trivia, more New Wave dancing...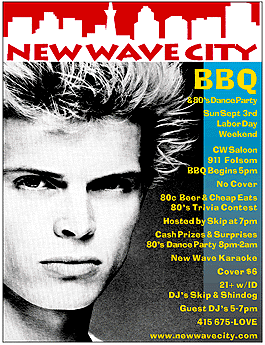 ---
Eight Year Anniversary Party, King Street Garage, September 9, 2000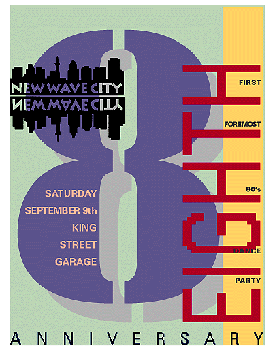 ---
Bangles Reunion Concert, Maritime Hall, September 17, 2000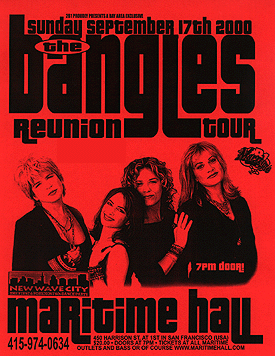 ---
Salute to Sisters of Mercy, King Street Garage, October 7, 2000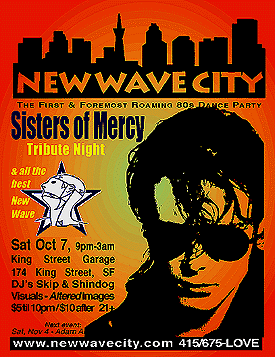 ---
Birthday Party for Adam Ant, King Street Garage, November 4, 2000
The celebration for the former Stuart Leslie Goddard was festive indeed, with a dozen or so Ant lookalikes and enough Antmusic to keep his fans happy!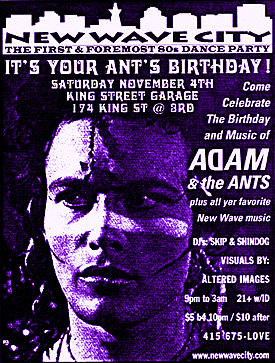 ---
Salute to the Smiths, King Street Garage, December 2, 2000
Our annual Smiths & Morrissey love-fest rocked! Featured giveaways were for the new release by Electronic, featuring Johnny Marr of the Smiths and Bernard Sumner of New Order, called Twisted Tenderness on Koch Records.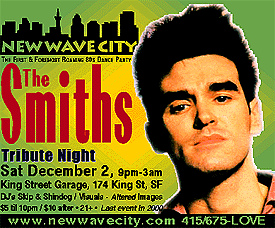 ---
2001 A New Wave Odyssey, Pound-SF, December 31, 2000
We inaugrated a brand new club for San Francisco as we also welcomed the official millennium for New Year's Eve 2001.